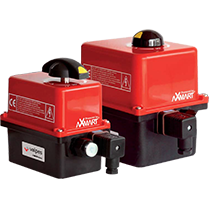 Electrical Actuators Type ER
Compact electrical actuator, Type ER, for quarterturn & halfturn movement and modulating.Body of polyamid in red colour as standard.
Multi voltage, Fail safe function & 3-position function are some of the features of the ER actuator.
The actuators comply fully with all the relevant industry standards for interfaces and connections such as ISO 5211, DIN 3337, VDI/VDE 3845 and NAMUR.
Type ER are CSA-UL approved
Enclosure certified: CSA Nema 4X, LCIE IP66
| | | |
| --- | --- | --- |
| Data sheet | Technical summary | IOM |
Electrical Actuators type ER
movement 0 – 90⁰
Standard Range
| | | | | | | | | |
| --- | --- | --- | --- | --- | --- | --- | --- | --- |
| Model | Connection | | Square | Op.time | Power | Torque Nm | Kg | Part No |
| ER10 | F03, F04, F05 | | 14 | 9s | 15W | 10 | | ** |
| ER20 | F03, F04, F05 | | 14 | 9s | 15W | 20 | | ** |
| ER35 | F03, F04, F05 | | 14 | 19s* | 15W | 35 | | ** |
| ER60 | F05, F07 | | 22 | 10s* | 45W | 60 | | ** |
| ER100 | F05, F07 | | 22 | 20s* | 45W | 100 | | ** |
* Optional operating times available
** Part numbers depending on voltage supplies & operating times
Fail Safe Range
| | | | | | | | | |
| --- | --- | --- | --- | --- | --- | --- | --- | --- |
| Model | Connection | | Square | Op.time | Power | Torque Nm | Kg | Part No |
| ER10 | F03, F04, F05 | | 14 | 11s | 15W | 10 | | ** |
| ER20 | F03, F04, F05 | | 14 | 12s | 15W | 20 | | ** |
| ER35 | F03, F04, F05 | | 14 | 7s* | 45W | 35 | | ** |
| ER60 | F05, F07 | | 22 | 12s* | 45W | 60 | | ** |
| ER100 | F05, F07 | | 22 | 23s* | 45W | 100 | | ** |
Options
| | | | | | | |
| --- | --- | --- | --- | --- | --- | --- |
| Code | Options | | | | | |
| ER-POT* | Feedback Potentiometer 100,1000,5000 or 10 000 Ohms | | | | | |
| ER-TRA* | Transmitter 0-20mA, 4-20mA or 0-10V | | | | | |
| ER-ELS | Card with 2 extra limit switches | | | | | |
| ER-CON | Connector Din 43 650 | | | | | |
| ER-M12 | 3P+T M12 Connector | | | | | |
| ER-M12x2 | 2 x 3P+T M12 Connectors | | | | | |
| ER-NPT | 1 x ISO M20 ti 1/2″ NPT adapter | | | | | |
| ER-NPTx2 | 1 x ISO M20 ti 1/2″ NPT adapter | | | | | |